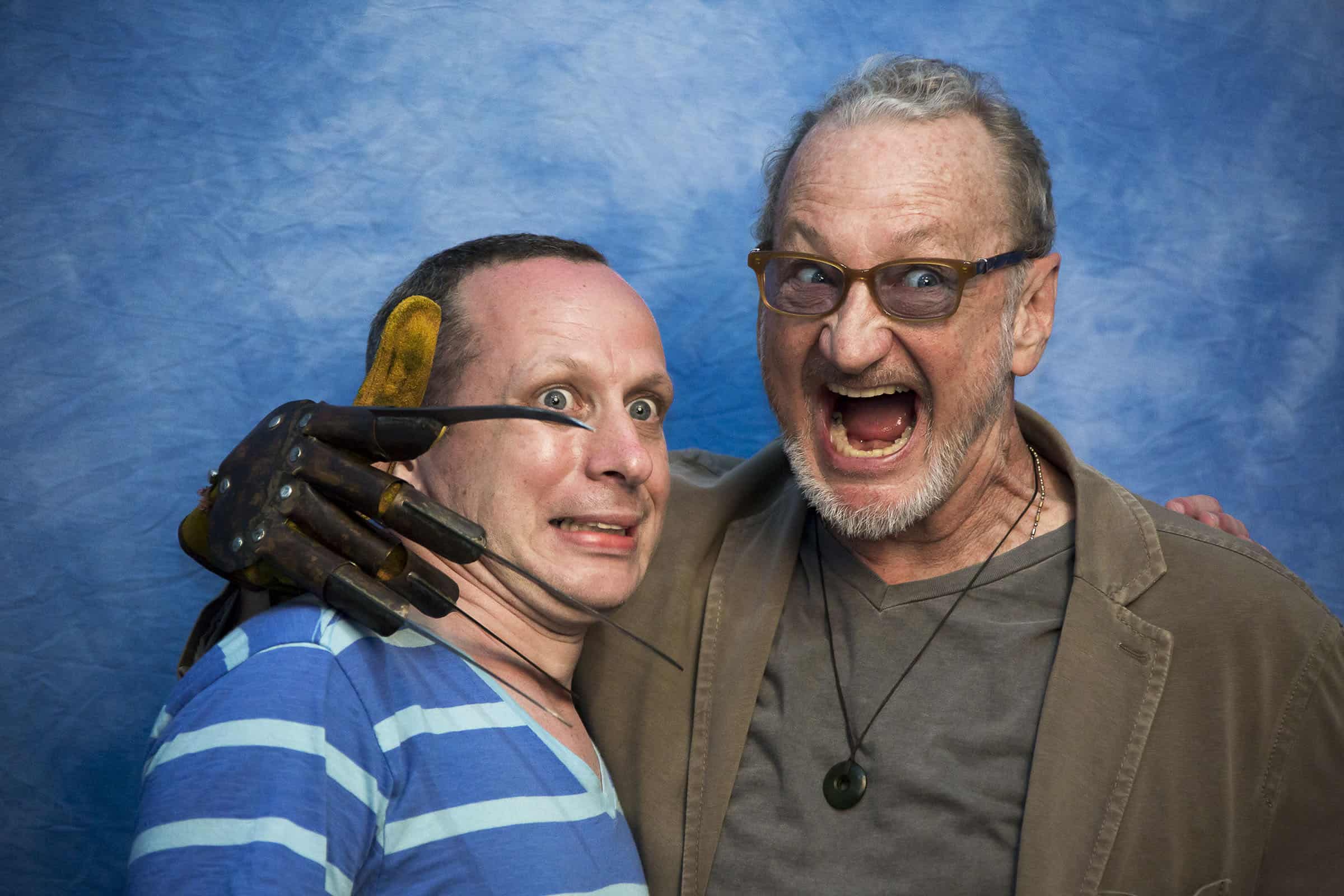 A real genuine keepsake to remind you of your day, when you got to meet one of your favourite actors or actresses. Simply have your photograph taken and walk away from the studio with your instantly developed copy of the image! No waiting until the end of the day for photos to come back from a lab!
Each guest who will be taking part in photo ops will be assigned at least one session over the weekend, or one session per day depending on demand and scheduling. You can check which days are available when you pre-book your photo shoot tickets, and the times will be added to the website on our schedule which is released around 1 week prior to the event.
Photo shoot tickets can be purchased in advance online or on the day from our Sales Desk, subject to availability.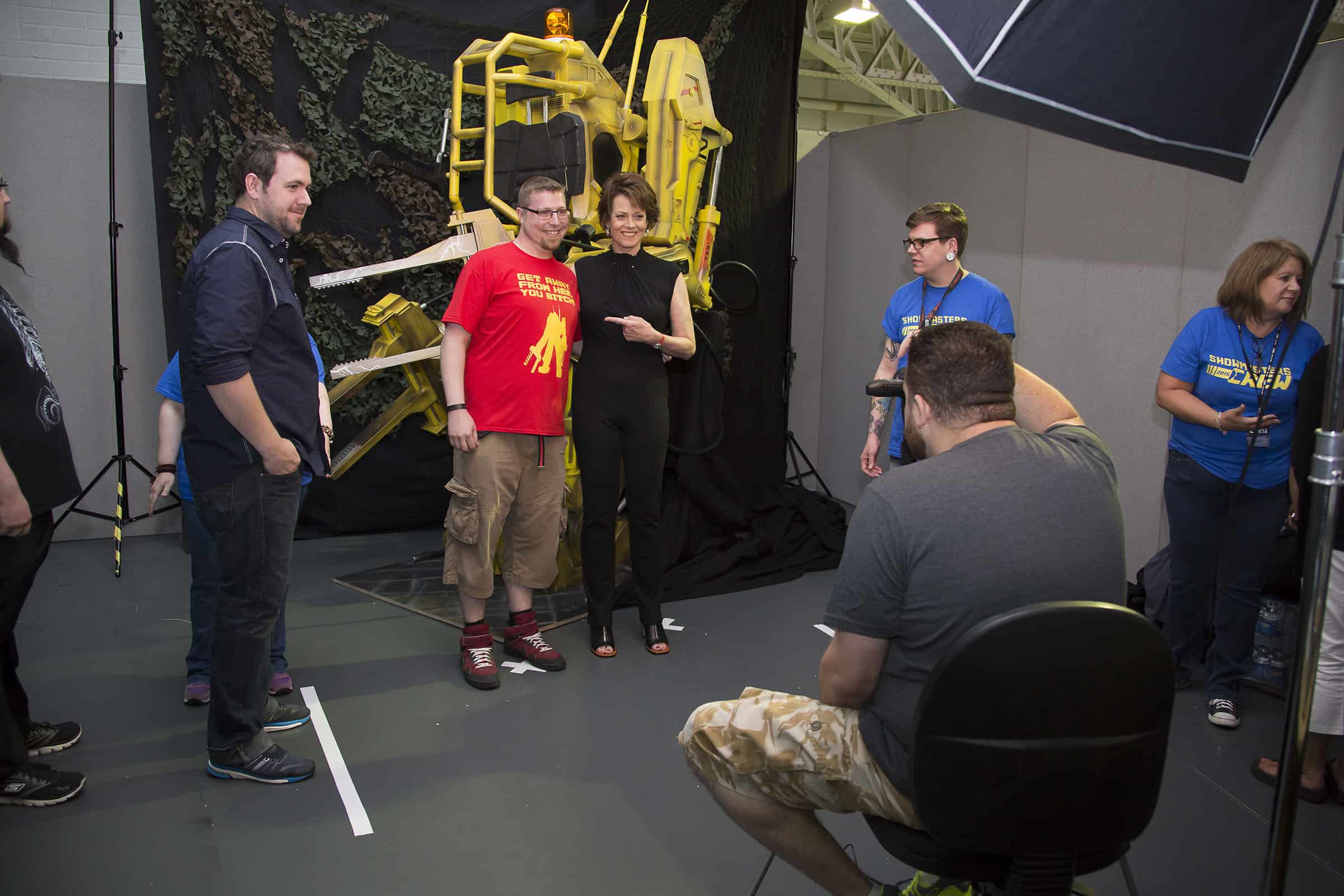 How the Photo Session works:
Your photograph will be taken by a professional photographer in one of our on-site studios.
The photograph will be taken in front of a backdrop, with lighting to ensure the best possible image. Please note if you have purchased a Green Screen Photo Shoot you will need to make sure you do not wear green clothing!
You will be standing beside the guest, or in some cases sat next to the guest, not leaning over a table.
Your photograph will be a 6" by 9" colour photograph (not an inkjet print) and will be ready for collection almost immediately. Do not forget to pick your print on the way out of the studio!
All of this combined should provide you with something unique and special.
Does this mean I can't take a picture of the guest during the autograph session?
We DO NOT add any restrictions on visitors taking photos of guests whilst queuing at their autograph table due to there being a photo shoot option. Some guests will have restrictions however regarding photography at their table, and if this is the case there will be signage at their table or booth to confirm if photography is allowed or not.
What do I do if I want to go to two photoshoots happening at the same time?
If you talk to a member of crew in the photo area they will be able to advise you of the best way to do this.
What happens if it doesn't come out for some other reason?
This is highly unlikely, however should there be a problem and your image does not print, we would pop you back into the queue (near the front) to allow you to have another photograph taken. If there is a technical fault with your photo that has not been picked up by our crew, such as yourself or the guest blinking, lens flare on your glasses that covers your eye or a printer fault, please speak to the crew there and then. This can only be rectified in our photo studio when the photo shoot is taking place, not after the event – if you have a problem that needs escalated, please speak to our Pitbosses in red at the area.
How does your queuing system work?
When purchasing a photo session you will be asked to select a "Batch" at checkout. This is how we order our queues.
For example: 11:00am Guest Photo Shoot.
Batch 1 will be called at 11:00am, Batch 2 at 11:10am, Batch 3 at 11:20am and so forth.
If you wish to check which batch we are up to you can speak to the crew member operating the queues. You may be asked to return to the queue if you have a higher batch number, but will always be given a time frame in which to do so by the crew – we would never tell you to "come back later" without referencing an amount of time.
If a guest has a morning and afternoon photo session, our schedule; available online 1 week prior to the event, will have information about which Passes and Batches will queue in each session. If you have any questions please email enquiries@showmastersevents.com, or alternatively you can join our forum and the moderators and forum members will be able to offer assistance.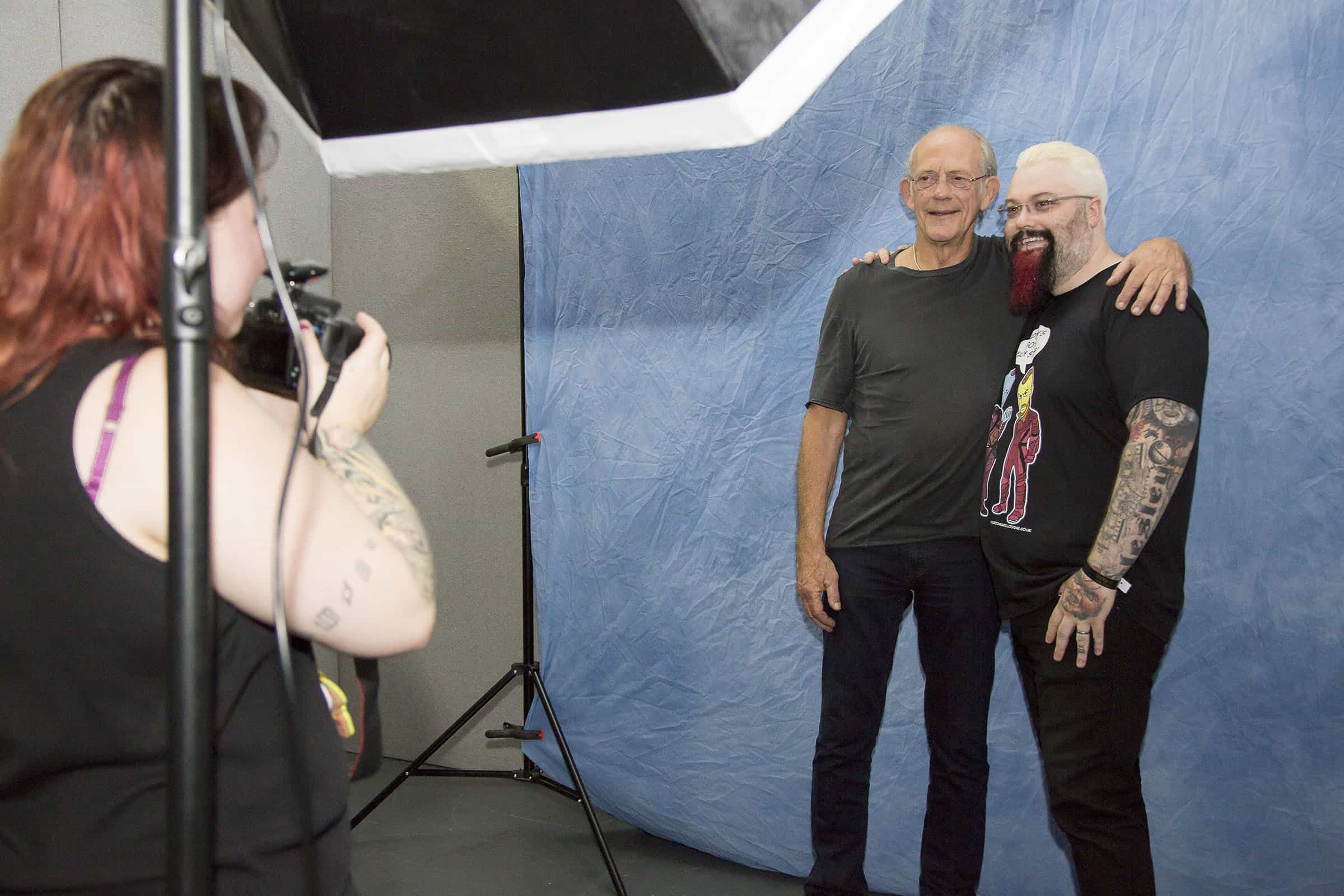 How many tickets can I purchase at once?
Our online store restricts orders to 10 photo shoot tickets. Should you wish to purchase more than this amount, you would need to book across multiple orders.
Can my friend and I both be in the same picture?
Yes, however it is still one ticket per person. You can have two people in the picture but you would need to book two tickets and you would receive a print each, with the option to change pose between photographs should you wish to, and if you're quick!
What time will the prints be ready for collection?
Photographs are printed instantly! They will be ready as you leave the photo area.
When will my jpegs be available for purchase?
We will make every effort to make all images available as soon as possible after the event, it usually takes 2 – 3 weeks for the team to upload them to our Jpeg online store. We appreciate your patience on this matter.
Please note that whilst this is an extra service at an additional cost. There is a small possibility that not all images can be recovered from an event for one reason or another, and as such we aren't able to guarantee that every image taken will be available.
The Small Print:
Showmasters reserves the right to refuse anyone from taking part in the phoot shoot; if payment has already been made then the ticket will be refunded. We also reserve the right to change the day and times of the photo shoot if it becomes necessary, subject to guest appearance days. Guests are subject to work and other commitments, and have the right to cancel – if a guest does cancel we will automatically refund the tickets through our online store. All photos are printed ready for collection as you leave the photo studio, so don't forget to pick this up.
Title and ownership, and all rights now and in the future, of and for the photo shoot images, remain exclusively with Showmasters LTD. Photo shoot images will be available to download for personal, non-commercial use after the event for a set fee. In purchasing a photo session ticket you are agreeing to these Terms and Conditions, and agree that Showmasters LTD have permission to use any and all images and photographs taken around the event that may include you, the customer, for future publicity material.
Guests appear subject to work commitments. Charges will be made for autographs. Photographs of the guests will be available. Not all guests are appearing on all days.